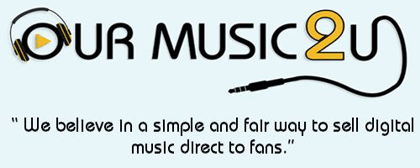 Ourmusic2u is a media player that enables musicians/bands/labels to sell music downloads directly to fans. This can be done via your website or any social media platforms.
We don't believe in barriers to sales such as complicated sign-ups or downloading additional software. We believe in a play, and buy service for music fans who do not want a time-consuming buying process.
For music lovers, the service offered by Ourmusic2u allows streaming whilst the player is on auto-play (autoplay can be activated in your player editor account settings) and downloading of songs via zip files or as individual tracks.
Using our simple editor you can upload up to 30 MP3/WAV files to your player page. You can also add a banner/picture and your band/act name. You can upload using a phone, (we have tested in IOS 14, MAC OS and android) laptop or PC.
When your player is complete send the link direct to your fans. You can do this via your own web site or any social networks that you access.
No commission fees on sales. Payments go straight to your Paypal account. Accepts all card payments.
The player can be marketed via your social media platforms. Fans will only view your page so they won't be exposed to other distractions.
You could record your music and have it up for sale within minutes. Why not record a live radio style gig and put it on the player?
Fans will have no software to download, no complicated sign up, their data is protected by Paypal and, it's simple to use.
Security for your tracks is a voice built into the player whilst, the track is being played. This voice will not form part of the download.
For the first year the cost is £69.00, this includes up to 30 tracks in WAV/MP3 format. Should you require more tracks please contact us. You can buy now, or take the 10 day trial.
Paypal may take a percentage, but Ourmusic2u does not. In beta testing we found a £1 track nets you 67p. If you sell multiple tracks in a download the return is even better.
As an example if you sell 105 downloads at £1.00 per track you will have covered the cost of the player for the first year.
Buy now.
The Ourmusic2u player is a nice uncluttered player that's easy to pass on to your contacts and fans. Uploading is a breeze and purchases simple via PayPal and all debit/credit cards. A very feasible alternative for artists who want to bypass the usual suspects on the digital selling platform.

Dave Mc Crory (McCrory Brothers)
I normally would not buy music downloads but was asked to do some testing on my phone for ourmusic2u. I was surprised that I did not have to download anything other than music tracks and was not asked to sign up for anything. I am not a person that is comfortable doing this sort of purchase, however, the process of the ourmusic2u player was very simple. I confidently downloaded 6 songs and was pleased that the system made the purchase really easy. I was glad to be part of the testing and will be using this system in the future. It's a must-have and supports bands directly.
Annette Boulton Carmarthen
I used the ourmusic2u player to buy some tracks and was surprised how easy it was. The whole process of buying and downloading 5 songs took less than 2 minutes. I used my iPhone and was very pleased that the whole process was very easy and intuitive. It was refreshing not to have to sign up or download additional software. I would recommend ourmusic2u as it is great for supporting bands.
Deborah Worthington Belfast
next
Please read or download our A4 size PDFs. Our simple marketing ideas will enhance your selling potential with your fans.